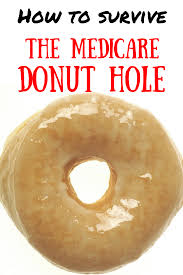 2019 Medicare Part D drug plan coverage Update
Changes from 2018 to 2019.
The good news for 2019 is if you are taking a branded drug, your co-pay should be less in 2019 compared to 2018 if you are "thrown" into the donut hole.
Initial Deductible Level:
Increased by $10 to $415 in 2019.
Initial Coverage Limit (ICL):
Increase from $3,750 in 2018 to $3,820 in 2019.
Out-of-Pocket Threshold (or TrOOP):
will increase from $5,000 in 2018 to $5,100 in 2019.
Coverage Gap (Donut Hole):
begins once you reach your Medicare Part D plan's initial coverage limit ($3,820 in 2019) and ends when you spend a total of $5,100
2019 Donut Hole Discount:
Receive a 75% Donut Hole discount on the total cost of their brand-name drugs purchased while in the Donut Hole.
The discount includes a 70% discount paid by the brand-name drug manufacturer and a 5% discount paid by your Medicare Part D plan. The 70% paid by the drug manufacturer combined with the 25% you pay, count toward your TrOOP or Donut Hole exit point.
For example: If you reach the Donut Hole and purchase a brand-name medication with a retail cost of $100, you will pay $25 for the medication, and receive $95 credit toward meeting your 2019 total out-of-pocket spending limit.